Mannerism: El Greco
El Greco, whose real name was Domenikos Theotokopoulos, actually originated from Greece but has been adopted into Spanish culture after he spent most of his life in Toledo, Spain. He is better know as El Greco (or The Greek), even though he signed his name on his many paintings in Greek.
El Greco (1541-1614)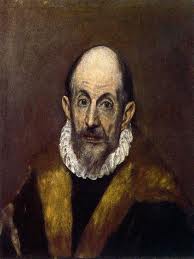 El Greco is best known for his religious paintings, of which the most famous today are 'The Disrobing of Christ'(El Espolio) (1577-79) and 'The Burial of the Count of Orgaz' (El entierro del Conde de Orgaz) (1587). Alongside his numerous religiously themed paintings, El Greco also painted several fantastic portraits that were able to convey both the appearance and personality of the subject.
El Greco was born on Crete, a Greek island, where he trained as an artist and icon painter and became a master as the young age of 22. At the age of twenty-six, El Greco moved to Venice, following in the footsteps of many other artists before him.
El Greco moved again in 1570 to Rome where he developed his skills in the artistic styles of Mannerism and Venetian Renaissance. However, El Greco wanted to create his own unique style and so altered his way of painting religious scenes.
In 1577, El Greco moved to Toledo, which is south of the capital of Spain, Madrid, where he would live until his death. He must have had to immerse himself in the Spanish culture and language and get by. He started this process by converting to Catholicism.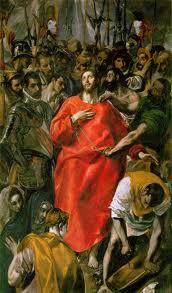 El Greco was contracted to paint a group of paintings for the Church of Santo Domingo El Antiguo, in Toledo which was to include one of his most famous paintings, 'The Disrobing of Christ' (El Espolio). By 1579, El Greco had completed nine of these paintings which helped to establish his reputation in Toledo.
However, El Greco had aspirations of painting for King Philip V. Unfortunately, the two paintings that El Greco painted for Philip were not to the King´s liking, and so the chance for El Greco to become a Court painter disappeared. The Spanish King gave him no other commissions and therefore El Greco returned to Toledo.
It was a good decision as in Toledo, El Greco received many more commisions including one for the painting that would become his most celebrated work today, 'The Burial of the Count of Orgaz' (El entierro del Conde de Orgaz).
This painting depicts a Spanish legend about the pious Count of Orgaz who left some money to the Church of Santo Tomé, El Greco's own church, and was therefore escorted to Heaven by Saint Stephen and Saint Augustine themselves.
El Greco experienced his most active period in terms of commissions from 1597 to 1607. During this time, El Greco was contracted to paint the Chapel of San José in Toledo, three paintings for the Colegio de Doña María de Aragon, and a monastry in Madrid. Following this busy period in his life, El Greco had to deal with a large amount of legal disputes, which often ended up costing him money.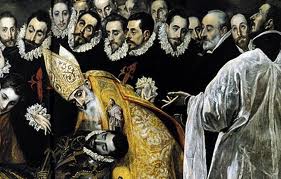 El Greco's last major commission came in 1608 which was to paint for the Hospital of Saint John the Baptist in Toledo. After this, El Greco spent the rest of his life painting and studying everyday at his home and studio in Toledo.
El Greco thought that the colour in his painting was one of the most important elements, even more so than the form. His style has been described as being closely related to the Mannerist style yet with a certain freedom to it.
El Greco was an extremely influential painter, influencing in particular Manet and Picasso. Pablo Picasso made many recreations of works by El Greco, but in his own Cubist style. For example, Picasso's famous painting 'Les Demoiselles d'Avignon' has a similar layout to the painting 'The Opening of the Fifth Seal' by El Greco. Today, if you want to learn more about El Greco, the best place to go is the El Greco Museum in his adopted hometown of Toledo, Spain.