Baroque: Bartolomé Murillo
Bartolomé Esteban Murillo was one of the most famous Baroque Spanish painters, alongside Velázquez and Zurbarán. Murillo is most famous for his religious paintings, however, he also painted many scenes involving women and children from his time.
Bartolomé Esteban Murillo (1617-1682)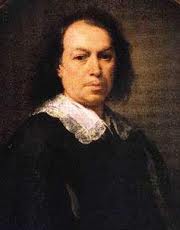 Bartolomé Esteban Murillo was born in 1617 in Seville as the youngest of fourteen siblings. Tragically, by the age of ten, both of Murillo's parents had died and so he went to live with one of his older siblings, Ana and her husband.
Murillo then went to study with Juan del Castillo, another Spanish painter, for five years, and soon became one of his best disciples. At the age of fourteen, Bartolomé Esteban Murillo began painting and selling his works in order to bring some money home to support his family.
At the age of twenty-two, Bartolomé Esteban Murillo decided to open a small workshop that specialised in cheap paintings which he would sell during the many public holidays. However, Murillo continued to study other artwork, particularly Flemish art, in order to improve his own style. Although it is not known whether he travelled abroad, he may have discovered and studied Flemish artwork in Seville, which at the time was a centre for trading art from all over Europe.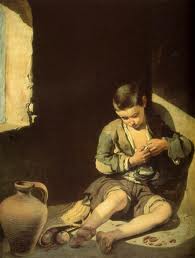 In 1642, Bartolomé Esteban Murillo travelled to Madrid which is where he most likely encountered the works of Zurbarán and Velázquez, whose influences, particularly the early Realist style, can be seen in some of Murillo's early works.
Murillo returned to Seville in 1645 where he painted thirteen paintings for the 'claustro de San Francisco el Grande de Sevilla' (Monastery of San Francisco the Great of Seville) which helped to increase Murillo's fame. Following this, Bartolomé Esteban Murillo began to specialise in painting the subjects of the Virgin and child and the Immaculate Conception. During this time, Bartolomé Esteban Murillo married his wife Beatriz Cabrera, with whom he had nine children. Unfortunately, four of these children died during the plague in Seville in 1649.
From 1658 to 1660, Bartolomé Esteban Murillo stayed in Madrid, where he helped found the 'Academia de Pintura' (Academy of Painting). He also helped direct the Academy with the Spanish painter, Hererra el Mozo. This period was also one of Murillo's busiest periods as he received many commissions including the altarpiece for the Monastery of Saint Augustine, and the paintings for the main altarpiece of the 'Iglesia del Convento de Capuchinos' (Church of the Convent of the Capuchins) in Seville.
Apart from his many religious paintings, Bartolomé Esteban Murillo also painted several pieces depicting women and children. For example, his painting 'La muchacha con flores' (The girl with flowers) was a fantastically realistic painting whose subject was taken from the girls Murillo often saw playing in the street. He also painted 'El joven mendigo' (The Young Beggar) in a similar style.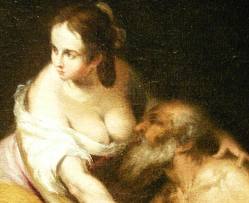 Murillo died in 1682 in Cádiz and was buried, according to the wishes of Murillo himself, in the Church of Santa Cruz. However, this church disappeared during the following French invasion of Spain. Fortunately, the church was rebuilt many years later over the top of the old site and so Murillo's remains still lie there.
Even after his death, Bartolomé Esteban Murillo's works continued to be famous throughout Spain and Europe thanks to his many disciples and followers. The numerous copies and recreations of his works meant that his style and influence lasted long after his death.
Today, Murillo's works are on display all over Spain as well as the world. His works can be found in his hometown of Seville in the Museum of Fine Arts as well as in the Murillo room in the Museum of Cádiz. The Prado Museum in Madrid has a collection of over forty of Murillo's works.
Furthermore, there have been many places in Spain named after Murillo in his honour. The 'Plaza de Murillo' (Murillo Square) which you can find between the Prado Museum and the Botanical Gardens in Madrid. There is even a sculpture of Murillo at the San Telmo Palace in Seville, which is part of the Illustrious Sevillans series, sculpted by Antonio Susillo.