Abstract: Eduardo Chillida
Eduardo Chillida was a Basque Spanish sculptor of the 20th Century. His large abstract works are considered to be his most famous works and they are on display in several cities around the world. Chillida was also famous for having a rivalry with fellow Spanish sculptor, Jorge Oteiza.
Eduardo Chillida (1924-2002)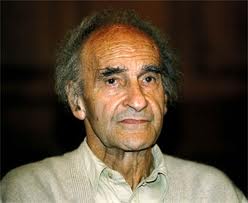 Eduardo Chillida was born in San Sebastian, in the Basque Country, in 1924 to a traditional, Catholic family. Chillida attended primary and secondary school in San Sebastian. After the family moved to Madrid in 1943 Chillida decided to follow a career in architecture. However, Chillida never completed his studies of architecture, leaving the institution in 1947 in order to pursue a more artistic career in drawing and sculpture.
During his time in San Sebastian, Eduardo Chillida also played in the San Sebastian's football team, Real Sociedad, as a goalkeeper. Chillida's father, Pedro Chillida, was president of the club between 1942 and 1945. In his sole year at the team, Eduardo Chillida played fourteen matches and only conceded sixteen goals.
After living under the repressive dictatorship of General Francisco Franco, Eduardo Chillida decided to move to Paris in order to find a more liberal, artistic environment. In Paris, Chillida studied the works of the Ancient Greek sculptors at the Louvre Museum, as well as the work of other contemporary artists like Picasso, Brancusi and González.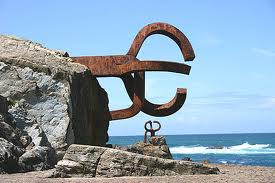 Chillida's first sculptures concentrated on the human form and he produced several busts and torsos. While in France, he produced his sculptures out of plaster and terracotta. However, Chillida was not overly satisfied with his work.
Frustrated with Paris, Eduardo Chillida returned to Spain. In 1951, Chillida and his wife, Pilar Belzunce, settled in the Basque country. Here, Chillida learnt the art of metal forging by working at the Forge owned by Manuel Illarramendi.
Following this, Chillida produced his first Abstract style sculpture which was called 'Ilarik'. It was also his first sculpture made from iron, which was to become a metal that he would often use throughout the rest of his life. 'Ilarik' was a primitive and austere piece of sculpture but it incorporated some of Chillida's favourite elements: space, emptiness, scale, and matter.
Eduardo Chillida would use the elements of 'Ilarik' in his later sculptures like 'Música callada' (Quiet Music), 'Rumor de límites' (Rumor of Limits) and 'El peine del viento' (The Comb of the Wind). 'El peine del viento', or 'Haizeen orrazia' in the Basque language, are a series of sculptures which are installed on various rocks along the coast of San Sebastian.
The 1950s were a decade when Eduardo Chillida began exhibiting his works around the world. His work was put on display in London, New York, Milan and Paris among many others. His work became internationally famous. Furthermore, Chillida won the 'Gran Premio Internacional de Escultura' (International Grand Prize for Sculpture) at the Biennial Exhibition in Venice in 1958.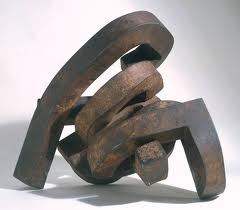 At the end of the 1950s, Chillida began experimenting with other material such as wood. He used wood as the material for his sculpture 'Abesti Gogora' in 1959. During this year he also made a sculpture out of steel.
After a trip to Greece with Jacques Dupin, a historicist and art critic, Eduardo Chillida created his first sculpture out of alabaster, a material similar to gypsum. He used a similar technique to those of the Ancient Greek masters to produce the 'Elogio de la luz' (In Praise of Light) series of sculptures.
From 1971 onwards, Chillida concentrated his work in large public monuments such as 'Monumento a la tolerancia' (Monument to Tolerance) in Seville, 'Elogio del horizonte' (In Praise of the Horizon) in Gijón, and 'Elogio del agua' (In Praise of Water) in Barcelona.
In 1999, the Guggenheim Museum in Bilbao decided to celebrate the 75th birthday of Eduardo Chillida with an exhibition in which 200 of Chillida's works went on display. It was one of the biggest and most important exhibitions dedicated to Chillida's life. In the later years of his life, Eduardo Chillida battled with Alzheimer's disease and in 2002, Chillida died at his home in San Sebastian.