Modernism: Juan Muñoz
Juan Muñoz was a Spanish sculptor who has been described as the most significant of the first generation of Spanish artists who achieved maturity in Spain after the dictatorship of General Francisco Franco. He was also famous for his many witty remarks.
Juan Muñoz (1953-2001)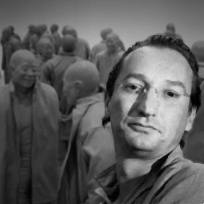 Juan Muñoz was born in Madrid, as the second of a family of seven brothers and grew up under the repressive regime of General Franco. His family was well educated but Muñoz soon became bored with education and was expelled from his school in Madrid. Muñoz's father then found a poet to teach Muñoz instead. It was with this teacher that Muñoz first discovered the Modernist art movement.
Juan Muñoz moved to England in order to study art at Croydon College and the Central School of Art and Design during the 1970s. Following this, Muñoz received a Fullbright scholarship in 1982 which enabled him to travel to the United States to study at the Pratt Institute in New York. In the United States, Muñoz learnt English by immersing himself in the language, working as a waiter in various restaurants in New York.
Muñoz's first exhibition was held in the Fernando Vijande gallery in Madrid in 1984. Following this, Juan Muñoz had many exhibitions of his sculptures throughout Europe and the World.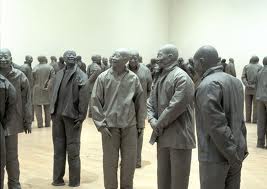 The 1990s were the decade in which Muñoz began to develop his own unique style, breaking the traditional rules of sculpture. Muñoz liked to create a narrative with his sculptures. This narrative manifested itself in the use of sculptures of humanesque figures and positioning them so that it appeared as though they were interacting with each other. By doing this, Muñoz is asking the spectator to relate to the figures, or even, to become part of the sculpture altogether. Muñoz often described himself as a 'story-teller' and he used his sculptures to create a story that involved the spectator as well.
His figures also tend to be a grey or monochrome colour which means that the figures appear to lack any personality or character, which further invites the spectator to question themselves. Juan Muñoz's materials of choice for his sculptures tended to be paper maché, bronze and resin.
Some of his most famous works include the 'Last Conversation Piece' which is on display at the Hirshorn Museum and Sculpture Garden in Washington DC, 'Una habitación donde siempre llueve' (A Room Where it Always Rains) in Barcelona, and 'Lo vi en Bolonia' (I Saw it in Bolonia) which you can study in Madrid, in the Reina Sofia Museum.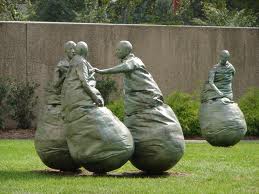 'Last Conversation Piece' was the last instalment of his 'Conversation' sculpture series. It features five globular-bodied figures, three of whom are grouped together and appear to be in conversation. The other two figures appear to be moving towards this group of three.
Juan Muñoz also had a career in radio. Muñoz collaborated with the British composer Gavin Bryars in 1992 to make a series of ten short programs. These programs consisted in a composition by Gavin Bryars over which Muñoz would describe how to do some card tricks. The series was broadcast on BBC Radio 3.
In recognition of his contribution to Spanish sculpture, Juan Muñoz received the Premio Nacional de Bellas Artes (National Prize for the Fine Arts) in 2000. On winning the award, Juan Muñoz declared that, to celebrate, he would buy himself a watch. One year later, in 2001, however, Muñoz tragically suffered a heart attack and died at the young age of forty-eight.
Today, you can see some of Muñoz's works in both Guggenheim Museums, in Bilbao and in New York, the Hirshorn Museum and Sculpture Garden in New York, the Tate Modern in London, and the Reina Sofia Museum in Madrid.