Modernism: Lluís Domènech i Montaner (1850-1923)
Lluís Domènech was a Catalan Spanish architect that is considered to have had a large influence on the movements of Catalan Modernism and Catalan Art Nouveau. Alongside his career as an architect, Lluís Domènech was also a Spanish politician and teacher.
Lluís Domènech i Montaner (1850-1923)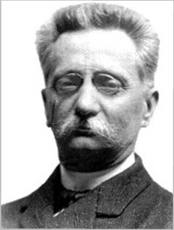 Born in Barcelona, Lluís Domènech started out studying Physics and Natural Sciences at university but changed to architecture shortly afterwards. Domènech studied at the Madrid school of architecture, the Real Academia de Bellas Artes de San Fernando, from which he graduated in 1873.
Two years later, in 1873, Lluís Domènech joined the School of Architecture in Barcelona, the 'Escola d'Arquitectura', as a teacher and in just another two years he had become a professor. In 1900, Domènech had become the Director of the School of Architecture.
During this time, however, Lluís Domènech was also pursuing his career as a Spanish politician. Therefore, Domènech was substituted from 1901 until 1905 as he was busy being a deputy in the Congress in Madrid. He eventually returned to his post in Barcelona in 1905, and continued to work at the school until 1920. Although his teaching career lasted for 45 years, Lluís Domènech also managed to design many buildings at the same time.
He was also a keen writer. Lluís Domènech contributed significantly to many famous publications in Catalonia, such as 'Revista de Catalunya' (The Catalan Magazine) and 'Lo Catalanista' (The Catalan). He also wrote many other books, technical articles and political essays. In 1878, Domènech published his article, 'En busca d'una arquitectura nacional' (In Search of a National Architecture), in which he discussed the fact that many Catalan Spanish architects were seeking to design and build buildings that somehow reflected the Catalan culture.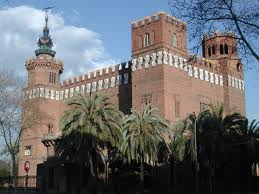 Domènech's first major project was a building for one of his relatives, Editorial Montaner i Simon. This building incorporates German symbolist elements with Moorish decorative patterns. Lluís Domènech then moved into his Modernist period, which began with various commissions for the Exposición Universal de Barcelona of 1888. During this time, Domènech also oversaw the refurbishment of the Barcelona City Hall.
Domènech then began to make a name for himself by completing some more elaborate buildings. For example, the Hotel Internacional that he designed, which unfortunately does not exist today, became famous as it was built in only 53 days, a record amount of time.
The Castell dels Tres Dragons, originally built as a restaurant for the 1888 World Fair in Barcelona, which became the Barcelona Zoological Museum, and is now the Museum of Natural Science, was another architectural triumph for Domènech. This building contains lots of exposed brickwork and ironwork, producing a strong industrial feel.
Following this, Domènech then began to design private housing instead. Lluís Domènech chose to use a variety of arts in his work, including sculpture, mosaics and stained glass. Examples of Domènech's private residences include the Casa Navàs i Rull, Casa Lleó Morera and the Casa Thomas in Barcelona.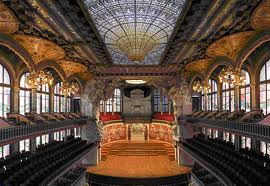 Lluís Domènech also received some awards for his architecture. In 1905, Domenech's Palau de la Música Catalana won an award in the annual architecture competition, held by the Council of Barcelona, as did his Hospital de Sant Pau in 1913. Both of these buildings have been made collectively into a single UNESCO World Heritage Site.
The style of Lluís Domènech has been described as having logical, rational structures but with eccentric Hispano-Moorish decoration combined with the curves associated with Catalan Modernism. Domènech also employed a mix of materials such as mosaics, ceramics and stained glass, and made them work together in harmony. Unlike his Catalan modernist counterparts, Lluís Domènech managed to keep the structures he designed lightweight without compromising on the lavish decorations.