Modernism: Antoni Gaudí (1852-1926)
Antoni Gaudí was a Catalan Spanish architect who championed his own form of Catalan Modernism. Gaudí's work is highly individual and incorporates elements of nature and the Catalan region.
Antoni Gaudí (1852-1926)
As a child, Antoni Gaudí was very ill as he had rheumatism which led to him becoming a vegetarian and fasting himself. In his teens, he worked as an apprentice in a textile mill, learning a skill that he would use later on in life for some of his creations. Gaudí then moved to study in Barcelona at a Convent in 1868.
From 1875, Gaudí took part in Spanish Military Service in Barcelona. Yet due to his illness, he spent a lot of time on leave and was therefore able to continue to study his art further. Following this, Antoni Gaudí studied architecture in two Spanish schools in Barcelona: The Llojta School and the Barcelona Higher School of Architecture.
Among some of Gaudí's first projects were the lampposts he designed for the Plaça Reial in Barcelona. Although they are not the most exciting sculptures by Gaudí, they helped him break into the world of Spanish architecture. Gaudí gained further fame by creating the Casa Vicens, a family house in Barcelona. The building incorporated many different influences such as Moorish architecture.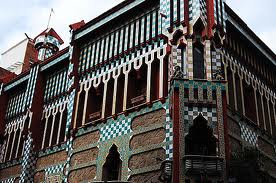 From this important work, Antoni Gaudí contracted more commissions. He also made friends with the Catalan industrialist Eusebi Güell in Paris. This friendship between Antoni Gaudí and Eusebi Güell led to many of Gaudí's most famous works to come into being. Gaudí's works for Güell include the Güell wine cellars, the Güell pavilions, the Güell Palace and the Güell Park.
Gaudí was extremely influenced by nature, religion and perhaps this is why Gaudí never made drawings of his plans. Instead he only made 3D models so that he could show the complexities of his design more easily, preferring a more organic, real approach to his designing process.
In 1883, Gaudí took on what would become his most celebrated work - The Sagrada Familia. Antoni Gaudí took over the project and changed the design plans completely to match his more naturally inspired style. Today, it is one of the most visited monuments in Spain, especially by those who want to study Spanish architecture.
The 1890s were a particularly useful time for Antoni Gaudí, as he received a few commissions from outside of the region of Catalonia. This helped him to spread his fame across Spain. During the first decade of the 20th Century, Gaudí would complete a series of family homes that would become some of his most celebrated works. These include the Casa Figueras, the Casa Batlló and the Casa Milà.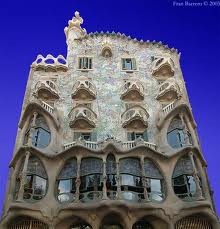 From 1915 until his death in 1926, Gaudí devoted his life to the Sagrada Familia. Although the construction of the Sagrada Familia began in 1882, it is still unfinished. In 2010, the Pope consecrated the unfinished building. Construction is still going on and it has been forecast that the Sagrada Familia will be completed by 2026, which will be mark 100 years after the death of Antoni Gaudí
Antoni Gaudí's architecture is also celebrated for its use of a variety of different media and techniques. Gaudí's builings exhibit examples of stained glass, ceramics, carpentry and wrought ironwork. All of these trades were part of Gaudí's repertoire hence he could incorporate them all successfully in his architecture.
Many of Gaudí's buildings have been made UNESCO World Heritage Sites such as the Güell Park, the Güell Palace, the Casa Milà and of course, the Sagrada Familia. These buildings are fantastic to visit whether you come to stay, work or study in Spain.