Neoclassicism: Mariano Benlliure
Mariano Benlliure was a Spanish sculptor who completed many public monuments and religious sculptures in Spain. Benlliure was one of the most productive civil sculptors that Spain has ever seen.
Mariano Benlliure (1862-1947)
Born in Valencia, Spain, Mariano Benlliure fitted into his artistic family straight away. From a very young age, Benlliure showed his talent for sculpture. In fact, his first exhibitions came before he reached the age of ten. Mariano Benlliure's first works mainly focused on images of bullfighting. However, he also completed some sculptures of dancers too. Some of his earliest works include 'El accidente' (The Accident) and 'Las víctimas de la fiesta' (The Victims of the Party). These early sculptures were first made from wax and then cast in metal, normally bronze. At the age of thirteen, he entered one of his first exhibitions, the Exposición Nacional de Bellas Artes of 1876 held in Madrid, with a group of his sculptures called 'La cogida de un picador' (The Catching of a Picador).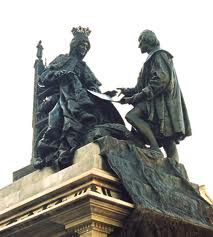 Benlliure did not always want to become the famous Spanish sculptor that he did. After his initial sculptures, Mariano Benlliure then decided that he wanted to be a painter. Thanks to the support of his master, Domingo Marqués, Benlliure went to study painting in Paris.
Yet in 1879, Mariano Benlliure took a trip to Rome. Here he saw many fantastic sculptures, including those by Michelangelo. This firsthand experience of these master sculptors convinced Benlliure to give up painting and become a sculptor himself.
In 1887, Benlliure settled in the Spanish capital, Madrid. In the same year, Mariano Benlliure won first prize for his portrait sculpture of the celebrated Spanish painter, Ribera. Thanks to this, Benlliure became famous very quickly. From then on, Mariano Benlliure received many commissions for important sculptures. Even King Alfonso XIII ordered some sculptures to be made by Benlliure for the Casa Real.
Other well known works by Benlliure include his public monuments of General San Martin in Lima, Peru, which you can study in Latin America, and his sculptures of other famous Spaniards such as Castelar, Gayarre and Velázquez.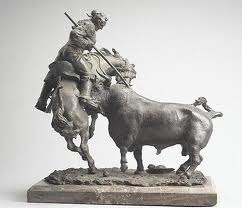 Benlliure produced a huge range of sculptures. In 1895, Mariano Benlliure won a medal of honour for his sculpture of the Spanish writer, Antonio Trueba, which stands in Bilbao. This was a particularly innovative sculpture as it tried to put the subject in a natural position. Trueba is depicted as sitting on a bench. Therefore this monument breaks away from the stereotypical historical statue. He also made a monument of the founder of the city of Bilbao, Don Diego López V de Haro.
Mariano Benlliure also completed many equestrian statues including one of King Alfonso XII which now stands in the 'Parque del Retiro' in Madrid. One of his most famous equestrian sculptures is the one depicting General Martínez Campos. It's a very realistic statue but it is also very antiheroic. Although the General is depicted with a long strong cape, the horse is actually shown to be craning its head around to scratch or lick at its side, hence breaking the General's heroic appearance.
Some of the best sculptures that you can study in Spain are his monuments of Ruiz Mendoza in Madrid, of Isabel la Católica in the Plaza de Isabel la Católica in Granada, and of Marqués de Larios in the Plaza de la Marina in Malaga.
Benlliure's style has been described as a heroic realist style of Spanish sculpture. He employed a detailed Naturalism which was then joined with an impressionistic spontaneity in his work. Benlliure must have worked quickly with a nervous style as you can see some of the finger marks in some of his early sculptures.