Baroque: Juan Martínez Montañés
Juan Martínez Montañés was a Spanish sculptor who worked mainly during the 17th Century. He is famous for his large production of exclusively religious statues, with the exception of one bust of King Philip IV, and is considered to be one of the most important Spanish sculptors from the Sevillan School of architecture.
Juan Martínez Montañés (1568-1649)
Montañés was born in Alcalá la Real, in the province of Jaén in Andalusia, as the only boy of six children. Unfortunately, only Juan and two of his sisters survived into adulthood, and so he had a close relationship with his sisters. In 1579, the family moved to Granada. At the age of twelve, Juan Martínez Montañés began his training as a Spanish sculptor with Pablo de Rojas. However, this was a short-lived apprenticeship as the family moved back to Seville in 1582. Juan Martínez Montañés completed his sculpture education in a school in Sevilla and then began working in a sculptor's workshop.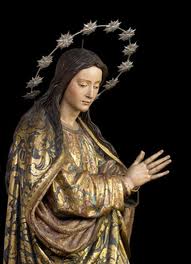 In 1587, Juan Martínez Montañés married his first wife, Ana de Villegas, with whom he had five children. His wife tragically died in 1613. However, Montañés remarried in 1614 to his second wife, Catalina de Salcedo y Sandoval, the daughter of a Spanish painter, and together they had seven more children.
Bizarrely, Juan Martínez Montañés was arrested and put in prison as the suspected murderer of a man named Luis Sánchez in 1591. He spent two years in jail before being released with a pardon in 1593.
In 1629, Juan Martínez Montañés fell very ill and was confined to his bed for five months. This meant that he could not continue with his work on an altarpiece for the cathedral. However, his illness did not stop his commissioners from trying to sue him for the incompletion of the work.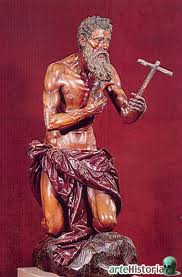 In 1635, Juan Martínez Montañés travelled to Madrid in order to complete a statue of King Philip IV of Spain. This was an equestrian statue and would become the basis for a similar statue by an Italian sculptor, Pietro Tacca. During this time, Juan Martínez Montañés spent a lot of time with painter Diego Veláquez, who eventually painted Montañés' portrait. Like nearly half the population of the town of Seville, Juan Martínez Montañés died in the Great Plague of Seville in 1649. He was 81 years old at the time.
Juan Martínez Montañés had a natural style that incorporated elements of both Classical and Mannerist art. By the end of his career, however, his work would be classified as Baroque Realism.
The material of choice of Juan Martínez Montañés was wood that was then polychromed and gilded. Nearly all of Montañés' works were religiously themed apart from a few busts such as the one produced for King Philip IV.
His first known work was a statue of San Cristobal and the Boy Jesus, completed in 1597. The statue measures 2.2 metres in height and is now in the Church of Salvador de Sevilla. Juan Martínez Montañés also made many sculptures depicting Christ on the cross. The most famous of these is 'Cristo de la Clemencia', finished in 1603, which can be found in the Cathedral of Seville.
His success earned him some other titles too. People would call him the 'Lisipo andaluz' (The Andalusian Lisipo) and the 'Dios de la madera' (God of Wood) for his great skill with this material.
Juan Martínez Montañés influenced other sculptors such as Alonso Cano and Juan de Mesa. In fact, Juan Martínez Montañés was Juan de Mesa's master. Pacheco could also be said to have been influenced by Juan Martínez Montañés as he polychromed some of his statues in the way that was characteristic of Montañés.