Impressionism: Teodoro Andreu
Teodoro Andreu was an Impressionist Spanish painter who followed in the footsteps of the famous ImpressionistSpanish painter, Joaquín Sorolla, and rose to fame in the first third of the 20th Century.
Teodoro Andreu (1870-1935)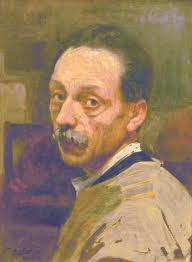 Teodoro Andreu was born in the city of Alcira in Valencia. Tragically, Andreu's father died from drowning in the Júcar River when Teodoro was only one year old. A few years later, in 1875, Teodoro Andreu, his siblings and his mother moved to live in Madrid. Here, Andreu received his primary education from the Escolapios, who were a group of Catholics who provided free education for the poorest children. Following this, Andreu began studying musical theory and also took part in the children's choir at the Teatro Real (Royal Theatre).
In 1884, Teodoro Andreu began his artistic training in drawing and painting. Firstly, he studied at the school of 'El Fomento de las Artes' (The Training of the Arts), then the 'Especial de Pintura, Escultura y Grabado' (School of Painting, Sculpting and Engraving), and finally in the 'Real Academia de Bellas Artes de San Fernando' (Royal Academy of Fine Arts of San Fernando).
After his education, Teodoro Andreu began working in the workshop of the Impressionist painter, Joaquín Sorolla, as his first disciple, around 1889. However, in order to avoid going on his military service, due to him being the son of a widow, Teodoro Andreu began selling flowers and fruits.
Teodoro Andreu painted his painting 'La Paella' (The Paella) in 1896, and it was awarded the third prize medal at the 'Exposición Nacional de Bellas Artes de Madrid' (National Exhibition of Fine Arts of Madrid) in 1897.
In 1902, Teodoro Andreu moved to Bilbao to set up his own art studio, where he took on many of his own disciples such as Medinaveitia, Rodríguez de Lecea and Carlos del Río. Following this, Teodoro took a trip travelling around Europe to places such as London and Paris. In 1904, Andreu was made a professor at the 'Escuela Superior de Artes e Industrias y Bellas Artes' (Superior School of Arts, Industries and Fine Arts) in Cádiz.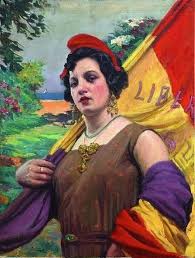 During this time, Teodoro also held some of his own improvised exhibitions in shopping areas in Valencia, which actually turned out to be very successful and helped spread his fame. In 1908, Andreu's painting 'La Viudeta' (The Widow) won the third prize medal at the 'Exposición Hispano Francesa' (Hispano-French Exhibition) in Zaragoza. Thanks to this, Teodoro Andreu was made a member of the Fine Arts Circle of Valencia. After his stint as a teacher, Teodoro Andreu returned to Barcelona in 1909. This was also the year that his mother died which forced Andreu to return to Valencia.
In Valencia, Teodoro Andreu met his wife Josefina Settier Banús, whom he married in 1905 in his hometown of Alcira. The couple had four children, two of which did not survive their infancy. He held his last exhibition in 1933 at the 'Círculo de Bellas Artes de Madrid' (Fine Arts Circle of Madrid). Some of his last paintings include 'Autorretrato' (Self-portrait) and 'Bodegón de membrillos' (Still-life of Quinces) from 1934. Teodoro Andreu himself died in 1935 at the age of sixty-four.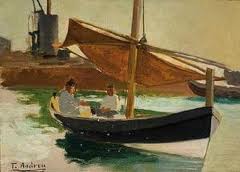 Teodoro Andreu was quite productive as a Spanish painter, painting over 350 paintings during his lifetime. He also left many drawings and sketches behind after his death. The years following his death saw many exhibitions of his works across Spain, in Valencia, Salamanca, Murcia and Alcira.
The centennary of Teodoro Andreu's birthday was celebrated in the year of 1971. To mark the occasion, the city of Valencia held exhibitions of his works in both the cities of Valencia and Alcira entitled 'Exposición homenaje en el centenario del nacimiento del pintor alcireño Teodoro Andreu' (Tribute Exhibition on the Centennary of the Birth of the Painter from Alcira, Teodoro Andreu).