Surrealism: Salvador Dalí
Salvador Dalí is one of the most eccentric Surrealist painters of the 20th Century, noted for his wild moustache and even wilder paintings. However, Salvador Dalí also made a significant contribution to the areas of film, sculpture and photography.
Salvador Dalí (1904-1989)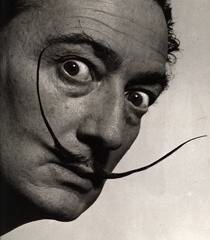 Salvador Dalí was born in Figueres, north of Barcelona, in Catalonia. Dali attended drawing school yet it was when his family went away for the summer that he learnt most about Modern Art. This was because the Dalí family used to holiday with the family of a local artist, Ramon Pichot.
During his adolescence he suffered many personal tragedies. Just before he was born, his older brother died, leading his parents to believe that Salvador was a reincarnation of his brother, a belief that even Salvador himself would come to believe. Later, Salvador Dalí's mother died when he was only sixteen years old. Two years later, Dalí began to study at the Academia de San Fernando, a school in Madrid for the Fine Arts.
Dalí was an extremely productive Spanish painter, producing over 1500 paintings as well as other works. Salvador Dalí's first painting was completed in 1910, when he was only six years old. Among his most famous paintings are 'The Persistence of Memory' (La persistencia de la memoria) (1931) and 'Soft Construction with Boiled Beans (Premonition of Civil War)' (Construcción blanda con judias hervidas (Premonicion de la guerra civil)) (1936).
Many of Salvador Dalí's paintings contained images of elephants, although elephants with extremely long, thin legs. Some critics have said that these elephants are therefore a representation of phantom reality. Dalí also liked to paint eggs. Eggs are unborn creatures and therefore parallels have been drawn between eggs and feelings of love and hope in Dalí's paintings.
Salvador Dalí was generally a Surrealist painter but he also created several Surrealist objects including the 'Lobster Telephone' (1936) and 'Mae West's Lips Sofa' (1937). It is said that Dalí created 'Mae West's Lips Sofa' as he had an obsession with the American actress.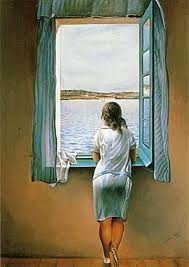 Dalí even designed the logo for the, now international, Spanish lollipop company, Chupa Chups, in 1969. The bright daisy shape is now an internationally recognised brand of which the company is very proud.
Salvador Dalí has inspired vast numbers of artists from all domains of art such as the artist Damien Hirst, the comedian Noel Fielding, and the sculptor Jeff Koons. One of Dalí's greatest fans was the Spanish King, Juan Carlos I, who bestowed upon Dalí the title of 'Marqués de Dalí de Púbol'. In appreciation of this, Salvador Dalí gave King Juan Carlos a painting.
Salavdor Dalí's work is internationally famous and as such, it is exhibited in some of the best museums and art galleries in the world. The best place in Spain to study them is at the Museo Reina Sofia, the modern art gallery in Madrid.
Dalí's work is very highly praised, yet it could be said that it was his personality and exploits that made him so memorable. Even Salvador Dalí's appearance was fantastically flamboyant, with the trademark waxed moustache which is said to be modelled on that of the Spanish artist, Diego Velázquez.
However, some of his antics also made him unpopular with other artists. For example, in 1934 Dalí and his wife Gala, attended a fancy dress ball in New York to which they went dressed as the Lindbergh baby and his kidnapper. This caused a huge outrage in the media in the USA. Dalí then apologised for causing offence with his costume. Yet on his return to Paris, the group of Surrealist artists confronted Dalí, saying that he should not have apologised for a Surrealist act.