Informalism: Antoni Tàpies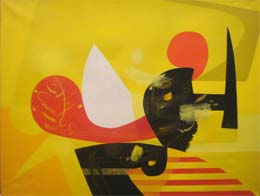 One of the great Spanish artists of the XX century, Antoni Tàpies is also a worldwide known figure in the contemporary Fine Arts. Having had a long vital and artistic trajectory, his career spans from the early 1940's to his death in 2012. He is considered one of the leading figures of informalism, an artistic style that sums up the different abstract art techniques and tendencies in the art world after the II World War.
Antoni Tàpies (1923-2012)
Antoni Tàpies was born in Barcelona in 1923, and he started being interested in the art world from a very early age, pursuing a self-taught education in art and drawing. As he said later in his memories, the tension between the anticlericalism of his father and the devote Christianity of his mother forced him to look for his own form of spirituality, which he found in Zen Buddhism. This early elements of difference forged his unique character, aside from all forms of establishment. As a self-taught artist, he was a person of great curiosity and was interested in many different aspects of the arts and the artistic creation, being especially fond of philosophy (Nietzsche), mysticism (Ramon Llull), music (Wagner), poetry (Poe and Mallarmé) and the architectural style of Gaudí. He was also strongly influenced by surrealism and Dadaism in his youth years, and took part in the collective artistic group Dau al Set.
After establishing his first atelier in Barcelona in 1946, he moved on to Paris thanks to a scholarship. But before this, he had already had his first individual exhibition in Barcelona in 1948, where he met Joan Miró, one of his artistic role models. He also met Picasso in Paris, and shared an exhibition with Joan-Josep Tharrats in Stockholm, who he met through Dalí and with whom he founded the collective Taüll. In the year 1950 he was also elected to represent Spain in the Biannual Art Fair in Venice. From this moment on, Tàpies' career continued rising in influence and volume of work, being commissioned each time more works for public spaces and buildings. Tàpies was also an innovator in many fields, such as scenography or illustration. He illustrated many books, especially working close with his lifelong friend and fellow artist Joan Brossa.
In 1990 there was a very important event for the study and diffusion of his work, for it was inaugurated the Antoni Tàpies Foundation. This foundation is a centre dedicated to the study and correct diffusion of the artist's oeuvre. The building that hosts it is an old modernist printing plant in Barcelona, and also holds a museum with a large number of works donated to it by Tàpies himself.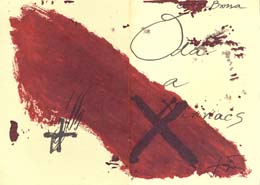 About his artistic style, it can be generally defined by the informalist style, more specifically the so-called "matter painting", a style in which the materials used in the work of art are as important as the colours, lines, or structures depicted. He was also very much influenced by geometric abstraction and the different techniques related with experimentalism and art brut, such as the dripping, the assemblage and the grattage. His works are defined by the fact that he adds so many layers of matter and texture that the painting ends up having the consistency of a wall. Still, the mixture of agglutinant wasn't so strong, and after some time the paintings initiated a slow process of decay. Instead of thinking about this as a disadvantage, Tàpies spoke great words about this fact, because for him that was only the natural process of life and decay.
This brings us to the issue of the themes he dealt with in his art, which are the main problems and worries of mankind, such as life, death, sexuality and pain. This is brought into his art and paintings through the strong iconographic stamp on his work, like the use of letters, crosses and icons, symbols all of them of the issues showcased earlier.
The work of Antoni Tàpies has travelled around the world and can be seen at many different museums so don't miss your chance of heading round to your closest contemporary art museum and search for some of his works. It will be an experience you won't forget!