Cubism: Juan Gris
Juan Gris, whose real name was José Victoriano González-Pérez, was a Spanish painter famous for painting in the Cubist style as well as producing some sculptures. His works are highly praised by art critics as being some of the finest examples of Cubist painting.
Juan Gris (1887-1927)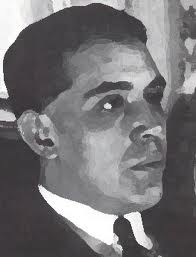 Juan Gris was born in Madrid as the thirteenth child of fourteen. Gris began studying art at a young age and eventually ended up studying in Madrid at the 'Escuela de Artes y Manufacturas' (School of Art and Manufacturing) from 1902 until 1904. Juan Gris also studied at the 'Escuela de Bellas Artes de San Fernando' (School of Fine Arts of San Fernando) in Madrid. While he was studying, Gris regularly produced drawings for the local newspapers and other publications.
From 1904, Juan Gris studied with a more academic Spanish artist, José Moreno Carbonero. This is probably why some of Juan Gris' early paintings were completed in a more traditional style. It is believed that it was around 1905 that José Victoriano González-Pérez came to adopt the pseudonym of Juan Gris.
After the death of his father, Juan Gris really wanted to become a great artist. He decided to leave Spain and go to live in Paris in 1906, in the famous artist commune of 'Bateau Lavoir' with other famous Spanish painters such as Pablo Picasso. He also met other artists from Europe such as Henri Matisse and Amedeo Modigliani. Amedeo Modigliani actually painted Gris' portrait in 1915.
In Paris, Juan Gris continued to produce amusing yet dark drawings for French publications such as 'Le rire' (The laugh) and 'Le Cri de Paris' (The Cry of Paris). However he decided to dedicate his life to painting and he began to paint some serious paintings in 1910. His own, individual Cubist style was already fully evolved by around 1912. Juan Gris' portrait of Pablo Picasso was one of the first great Cubist paintings that was not completed by the founders of the movement, Picasso and Braque.
At first, Juan Gris' Cubist paintings were very much an analytic study of the paintings of Picasso and Braque, being painted in a monochromatic colour scheme, yet he then developed his own style which employed a much more colourful paint palette. It was during this time that Juan painted some of his most colourful works such as 'Violín y vaso' (Violin and Glass), 'Guitarra sobre una silla' (Guitar on a Chair) and 'El torero' (The Bullfighter).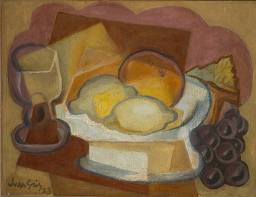 Juan Gris believed that a painting was not merely a representation of an object from reality. He thought that the artist should recreate and reinterpret that object in his painting. In his pieces, Juan used a variety of materials to produce this effect such as collage, charcoal and paint. His theories on art were articulated in the years of 1924 and 1925. In 1924, Juan Gris delivered a lecture on art entitled 'Des possibilités de la peinture' (Some Possibilities of Painting) at the Sorbonne University in Paris.
For legal reasons, Juan Gris had to remain in France. However due to his poor health and many asthma attacks, he moved his studio in 1922 from the artist commune of 'Bateau Lavoir' to Boulogne-sur-Seine in search of a better atmosphere.
Juan Gris really made an impression on the art scene and his fellow painters in 1924. This was the year when Juan Gris produced some of his most famous paintings such as 'Mujer en la ventana' (Woman in the Window) and 'El libro rojo' (The Red Book). Tragically, this peak in Juan Gris' fame did not last long as only three years later he died as a result of a severe asthma attack. Juan Gris was only forty years old at the time.
Juan Gris' paintings were very famous both during his time and today. For many decades, the most expensive painting by Juan Gris was the painting 'Livre, pipe et verres' (Books, Pipe and Glasses), which was sold at auction in 1915 for 20.8 million US dollars. However that record was finally broken in 2010 when the painting 'Violon et guitarre' (Violin and Guitar) sold for 28.6 million US dollars.