Impressionism: Joaquín Sorolla
Joaquín Sorolla was a Spanish painter from the 19th century who specialised in painting portraits and landscapes. Sorolla is one of most productive Spanish painters, having produced over 2000 paintings.
Joaquín Sorolla (1863-1923)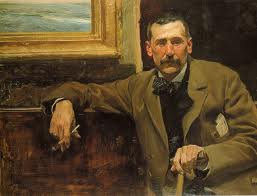 Born in Valencia, Spain, Joaquín Sorolla only spent two years with his parents as they tragically died in 1865, leaving Joaquin and his sister as orphans. Therefore, Joaquín Sorolla lived with his aunt and uncle.
At the age of fourteen, Sorolla studied in Valencia the subject of his passion: art. At eighteen years of age, Sorolla moved to Madrid, in order to be surrounded by the Madrilenian culture and to study Spanish masters' paintings in the Museo del Prado. Joaquín Sorolla then spent four years in Madrid completing an art course, but returned to his hometown of Valencia after a brief spell in Paris. It was in Valencia that Joaquín Sorolla met his wife and had his three children. The Sorolla family then moved to Madrid where Joaquín began to paint a vast number of large paintings for displays in exhibitions.
Joaquín Sorolla experienced his first taste of success with his painting 'Another Marguerite' (Otra Margarita) (1892). For this painting, Sorolla received the gold medal at the National Exhibition in Madrid, and then First Prize at the Chicago International Exhibition. Thanks to 'Another Marguerite', Joaquín Sorolla became very famous and later became the much acclaimed head of the Modern Spanish School of Painting.
Joaquín Sorolla then moved on to paint two paintings that joined the disciplines of art, science and technology. 'A Research' (Una investigacion) and 'Portrait of Dr Simarro at the Microscope' (el Dr Simarro en el laboratorio) won the Prize of Honour at the National Exhibition of Fine Arts, which was held in Madrid in 1897. These paintings have been considered by many as being the greatest paintings of this genre in the world, let alone in Spain.
Joaquín Sorolla received many prizes for his paintings during his lifetime. Yet the biggest prize he won for the painting 'Sad Inheritance' (Triste herencia). 'Sad Inheritance' (Triste herencia) shows a group of crippled children bathing at the seaside under the guidance of a monk.
Joaquín Sorolla received the Grand Prix and a Medal of Honour for 'Sad Inheritance' (Triste herencia) at the National Exhibition in Paris in 1900. The following year, Sorolla received another Medal of Honour at the 1901 National Exhibition in Madrid for the same painting.
In 1906, Sorolla put on an exhibition at the Georges Petit Galleries in Paris which included over 500 pieces of his artwork. This exhibition contained many of Sorolla's early paintings as well as his more recent impressionist landscapes that tended to focus on people wandering across sunny beaches. The Impressionist aspect can be seen in the way Joaquín Sorolla portrayed the sunlight falling on the subjects of the paintings.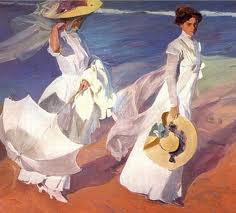 Sorolla continued to produce many paintings extremely quickly and held many more of these large scale exhibitions in London and Germany. While on his trip to England, Sorolla met Archer Milton Huntington who later invited Sorolla to be a member of the Hispanic Society of America. In 1909, Sorolla did another large exhibition at the Hispanic Society of America, displaying 356 paintings. During that exhibition, Joaquín Sorolla managed to sell 195 of those paintings.
With regards to commissions, Sorolla's biggest commission came in 1911 when he was asked to paint a series of paintings depicting everyday life in Spain, which were to hang in the Hispanic Society of America. Sorolla, however, decided to adapt this commission so that each painting represented the different regions of Spain. These paintings took up most of Joaquín Sorolla's time and when they were finally completed in 1919, Sorolla was exhausted. He became ill, suffering a stroke in 1920, and died three years later in 1923.