Symbolism: Julio Romero de Torres
Julio Romero de Torres was a Spanish painter who was a good representative of the ambiguities that could be created by painting in the Symbolist style. He became particularly famous during the latter years of his life with his erotic paintings of naked women.
Julio Romero de Torres (1874-1930)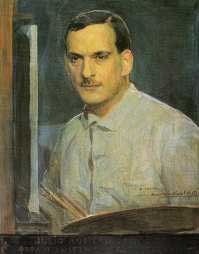 Julio Romero de Torres was born in Códorba in Spain which would be the city where he would spend the majority of his life. His father, Rafael Romero Barros, was also a famous Spanish painter as well as being the founder and director of the 'Museo Provincial de Bellas Artes' (Provincial Museum of Fine Arts) in Córdoba. As a result, Julio Romero de Torres was surrounded by art and paintings from a young age. Therefore Julio began learning about art from his father before he began studying in the 'Escuela de Bellas Artes de Córdoba' (School of Fine Arts of Córdoba) at the age of ten.
During this time, Julio Romero de Torres surrounded himself with the artistic movements of the time and became very well versed in them. He painted his first known work in 1890 which was called 'La huerta de los Morales' (The Garden of the Morales). He also entered his paintings into many competitions such as the National Exhibition of 1895 in Madrid where he received an honorary mention. Julio returned to the same competition in the years of 1899 and 1904 where he was awarded the third prize medal.
In 1906, Julio Romero de Torres travelled significantly, visiting places such as Italy, France, England and the Netherlands. His trip across Europe led him to encounter and acquire the Symbolist style for which he is most famous. It was also during this year that he moved to live and work in Madrid.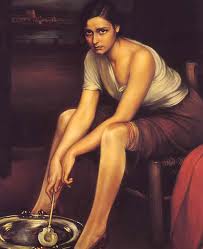 Julio Romero de Torres became a part of the Circle of Fine Arts in 1907 alongside a variety of the most well known artists of the period. The following year he was awarded the first prize medal at the National Exhibition with his painting 'Musa gitana' (Gypsy Muse). This award was followed by a series of others which included the first prize at the Barcelona Exhibition in 1911 and the first prize at the Munich International Exhibition of 1913.
Unfortunately, this winning streak was not to continue as the paintings he submitted in the National Exhibition of 1915 were not awarded any prizes. This failure led Julio Romero de Torres to quit entering National Exhibitions and competitions altogether.
When the First World War began in 1914, Julio Romero de Torres joined the Allies side and fought in the war as a pilot. After the end of the war in 1916, Julio Romero de Torres moved and settled finally in Madrid where he became the head of Clothing Design in the School of Fine Arts of Madrid.
Julio Romero de Torres works became famous across Europe during this time. However it was during his trip to Buenos Aires in Argentina in 1922 that he became particularly successful. An exhibition of his work was held in Argentina and was extremely well received by the Argentine public and art critics.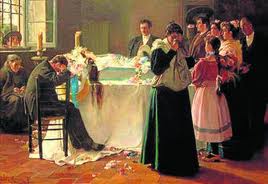 Julio was exhausted after all his travelling and painting and he fell ill in 1930 with a disease related to hepatitis. Therefore he returned to Córdoba in order to recover. Here he painted his last and most famous work, 'La chiquita piconera', before he died a few months later in May 1930.
Today the majority of Julio Romero de Torres's Symbolist works can be found in the 'Museo Julio Romero de Torres' (Julio Romero de Torres Museum) in Córdoba where there is a huge collection of his works that have been donated by his family, the government and private collectors. Among some of Julio's most famous works are 'Marta y Maria' (Marta and Maria), 'El poema de Córdoba' (The Poem of Córdoba) and 'El retablo de amor' (The Portrait of Love).