Cubism: María Blanchard
The painter María Blanchard, whose real name was María Gutiérrez Cueto, was a Spanish painter, best known for her paintings in the Cubist style. María chose to use the surname of her grandmother, Blanchard.
María Blanchard (1881-1932)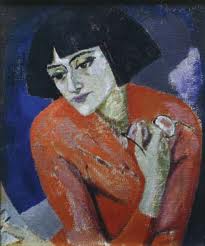 María Blanchard was born in Santander in Cantabria to Enrique Gutiérrez Cueto, the director of the newspaper 'El Atlántico' (The Atlantic). María's mother had an accident during her pregnancy that meant María was born with severe disabilities such as a deformation of the spine. As a result, María Blanchard had a hunchback and found it very difficult to walk. She was teased heavily at school which left her with many emotional scars. However María Blanchard found her painting to be a great way of escaping her troubles and expressing how she felt.
Her family was a huge influence in María Blanchard's decision to follow a career in art. Her father provided her with love and knowledge of art, and he helped to cultivate her artistic talent in drawing from a young age.
In 1903, María Blanchard moved to study in Madrid where she began training with Spanish artists such as Emilio Sala and Manuel Benedito. With Emilio Sala, María learnt the precision of his drawing and the exuberant use of colour. These elements would feature in some of her first compositions.
After winning the third prize for one of her paintings at the 'Exposición Nacional de Bellas Artes' (National Exhibition of Fine Arts), María Blanchard's local government of Santander decided to fund her education in the arts with a grant in 1909. With the aid of this grant, Blanchard went to study in Paris at the 'Academie Vitti' (Vitti Academy). While at the Academy, she received artistic training from such great figures as Kees van Dongen and Hermenegildo Anglada Camarasa. It was also at this academy that María Blanchard would discover Cubism and be influenced by artists like Juan Gris.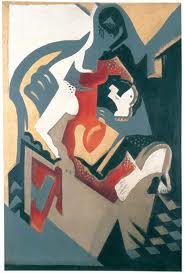 Due to the First World War, María Blanchard left Paris and returned to Madrid in 1914. She began teaching art in Salamanca and participated in some expositions. However in 1916, after the end of the war, Blanchard left once again for Paris, where she would spend the rest of her life.
In Paris, María Blanchard began spending time with the many Cubist artists living there, and she was particularly good friends with the Cubist Spanish painter, Juan Gris, whose influence can clearly be seen in many of her paintings. She joined the Cubist art group and soon began developing her own style of Cubism, involving a rich use of colour and the incorporation of personal elements.
This original Cubist style would develop over the years, becoming more figurative. The drawings would be harsh, and the colours would be bright and would often clash. The images were extremely expressive and sometimes, even intimidating.
Some of María Blanchard's most famous paintings in the Cubist style include 'Composición cubista' (Cubist Composition), 'Mujer con abanico' (Woman with Fan), and 'Nature morte cubiste' (Cubist Still-life).
After the exhibitions of María Blanchard's work in Belgium and France in 1920 as well as the exhibition at the 'Société des Artistes Indépendants' (Society of Independent Artists) in 1921, demand for her work went through the roof. However, due to the economic crisis following this period, many collectors stopped investing in her works. This led to María becoming destitute and relying on her friend, Frank Flausch, a literature fanatic, who supported her financially until her death.
Juan Gris died in 1927 which had a severe effect on María Blanchard. The loss of this close friendship was too much for María to take and so she became a recluse, refusing to see any of her other artist friends. However, María continued to paint despite this great personal loss.
Unfortunately, her health gradually got worse over the coming years, and at one point she contracted tuberculosis which made it impossible for her to paint. Eventually, in 1932, María Blanchard died at the age of fifty-one.