Surrealism: Joan Miró
Joan Miró was a Catalan Spanish painter, sculptor and ceramist. His work has been described as extremely patriotic to Catalonia as Miró incorporates elements of Catalan pride in his pieces. Joan Miró was also a Surrealist Spanish painter.
Joan Miró (1893-1983)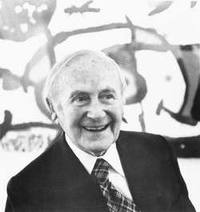 There are many distinct periods in the works of Joan Miró which include his early Fauvist works, followed by the period of Magical Realism, then Early Surrealism. Miró also dabbled in Surrealist Pictorial Language painting. Some of his most famous pieces include 'The Tilled Field' (La terre labourée), 'Blue I, II, and III' and a sculpture, 'Dona i Ocell', which in the Spanish language would be 'Mujer y pájaro' (Woman and Bird).
Joan Miró started learning to draw at the age of seven at a private Spanish school in Barcelona. Miró studied in the Escuela de Bellas Artes de Llotja from 1907, despite this being against his father's wishes.
Miró's first works were not successful. During his first solo exhibition in 1918 in Barcelona, people ridiculed his work and some people went so far as to deface it. Joan Miró then pursued a career as an accountant. However, this was short-lived as he had a nervous breakdown and so turned his attention back to his art.
Joan Miró became a member of the Surrealist group in 1924, as the other members thought his work was sufficiently 'dream-like' to merit his place in the group. From then however, Miró experimented with different forms of art, yet still kept to his surrealist roots.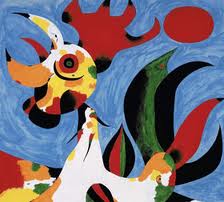 Miró was invited to exhibit his art work in New York by Pierre Matisse, the youngest son of famous French painter, Henri Matisse, in 1931. With this exhibition at The Pierre Matisse Gallery, Joan Miró gained international renown.
Unlike his Surrealist peers, Joan Miró preferred to stay out of politics. During the 1930s and 1940s, Miró relocated many times. Just before the Spanish Civil War, he decided to stay in France, where he had been spending most of his time. However, as the German invasion of France drew nearer, Miró moved to Normandy. In 1940, Joan Miró returned to Spain to live under the dictatorship of General Francisco Franco.
Between 1948 and 1949, Miró was living in Barcelona but often travelled to Paris in order to practise his techniques in printing. During this time, Joan Miró made friends with Fernand Moulot, the director of Moulot studios, a studio that specialised in lithography, a printing technique using a flat stone or metal plate. This turned out to be a productive friendship as together they produced over a thousand lithographic editions.
In 1959, on the request of the French writer and poet André Breton, Joan Miró acted as one of the representatives of Spain in the 'Homage to Surrealism' exhibition. For this, Miró produced several sculptures and ceramics which were completed in 1964.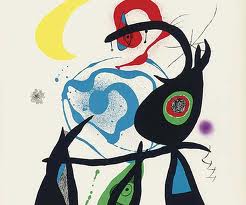 One of Miró's most famous works was a tapestry that he wove for the World Trade Centre in New York. Weaving was not an art form that Joan Miró was familiar with, and so he had to learn it first before he could complete the commission. Unfortunately, this tapestry was lost in the 9/11 terrorist attacks. It was the most expensive piece of art lost during those attacks.
Joan Miró had a significant influence on the art of the late 20th century, and in particular, that of American Abstract Expressionist artists such as Robert Motherwell, Jackson Pollock and Alexander Calder.
Many of Miró's works are displayed in various art galleries and museums across the world including the National Gallery of Art in Washington DC and in the Fundació Joan Miró (The Joan Miró Foundation) in Montjuic in Barcelona.